The Gascoignes were an ancient family and it is reputed that they came over to England with William the Conqueror in 1066. The family seat was Gawthorp Hall, Harewood, and the most notable member was Sir William Gascoigne who became Lord Chief Justice of England, dying in 1412. In the 1390s, his brother Nicholas Gascoigne acquired the manor of Lasingcroft with appurtenances at Shippen, South Milford, Grimston, Micklefield, Garforth, Barrowby and Barnbow. Lasingcroft remained the seat of this branch of the family for nearly two centuries until Richard Gascoigne, the great-great-great grandson of Nicholas acquired Barnbow Hall and the old Grenefeld lands in 1568/9.
(See Part 1)
Richard Gascoigne was said by his nephew to have "lived above 21 years a widower and all that time at Barnebowe". The old family seat at Lasingcroft remained in the family and was a house of considerable size. An inventory of its contents at the death of Richard's father, John Gascoigne, in 1557, occupies five and a half pages in 'The History of Barwick-in-Elmet' by Rev. Colman and he lists 25 domestic, work and store rooms. For a description of Barnbow Hall we have to wait another century when it was a very substantial country house. Some wills made in the decades following the acquisition of the Hall by Richard Gascoigne tell us a little about life in Barnbow at the time but maddeningly raise issues without giving us the details essential for their understanding. In his will dated December 1571 and proved 14 April 1572, John Bramham of Barnbow is revealed as one profitably engaged in farming as he left the corn in his barn to his wife Agnes and 20s ( a considerable sum in those days) and a 'gimber' lamb each to George and 'Margrett' Broughe. (A gimmer lamb is a young ewe.) To Thomas Broughe he left 20s. and "all my working gear save one axe and one hatchette", indicating that he was some kind of craftsman, perhaps involving work in wood. To each of his sons he left a 'chiste' (chest?). Stephen Braime of Barnbow in a will dated 1 August 1590 and proved 23 November 1591, was also engaged in agriculture. Like John Bramham, he also bequeathed money and goods to the Broughe family who were related by marriage. To Thomas Broughe, his son in law, he gave "one Brownlie cow called Blackwald " and a swarm of beas, and to his daugher 'Marye' Broughe he also left a cow. To his son, 'Henrye' he left œ6.13s.4d. "in consideration that the said Henrye shall instruct and teache my sonne Richard the craft and occupation he now usethe". (How much more interesting his will would be if he had told us what the craft was.) The wills indicate that land was held by agreement between a conventional landlord and tenant rather than under the old manorial system. Although agriculture was an important part of the life of the two men, each family was involved in some craft which was of sufficient importance to be mentioned in the wills. Craftsmen active at the time would include blacksmiths, wheelwrights, carpenters and weavers. The wills also indicate that Barnbow must have been a small community tightly knit by marriage and other activities at the time. Richard Gascoigne died in 1592 and his land passed first to his brother and then to his nephew, John Gascoigne. In the later years of the 16th. century, he turned away from the teachings of the reformed Church of England and returned to the Roman Catholic faith. Failure to attend the services of the Established Church was illegal and carried a heavy fine. Such non-attenders were called 'recusants' and as such the Gascoignes endured much persecution during the 17th. century. A list of Yorkshire recusants, drawn up by parishes by the Justices of the Peace of the county and published in 1604, shows that Barwick had 21 recusants in all, a very large total compared with other places in the region. A full account of recusancy in Barwick at that time was published in 'The Barwicker' No.20. John Gascoigne, his wife Anne and his mother Maude head the list, which includes his serving man, his master of coalmines, his milner (miller) at Hillome and four female servants at Barnbow. Under 'Secret Baptisms', the record says "Mr John Gascoigne his children were all secretely baptized and none of them came to ye church neither is it knowne where they were baptized". Of John Gascoigne's ten children, John became Abbot of Lamspringe in Hanover, Michael a Benedictine monk, Francis a secular priest, Katherine the Abbess of Cambrai in Northern France, and Christiana and Margaret nuns there. Ten of the names on the list are given under the headings 'recusants for one year' indicating that they had probably only just declared themselves in the mistaken hope that the persecution of Catholics would end with the assumption to the throne of James 1. This list contains the names of a servant and the wife of one of the servants of John Gascoigne and no doubt others were in his employ. It is clear from this and later documents that Barnbow Hall in its isolated position on a hill overlooking the valley of Cock Beck provided a reasonably safe and comfortable haven for many adherents to the Roman Catholic faith and where visiting priests in secret could say mass and other services. Here too the Barnbow recusants would have the support of John Gascoigne, who perhaps paid their fines. Later documents show that there was a well furnished chapel at Barnbow Hall.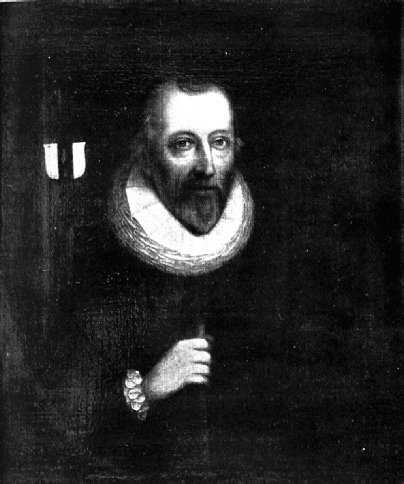 John (later Sir John) Gascoigne
from a portrait in Lotherton Hall
photographed by Godfrey Bingley.
In 1604, in order to protect against possible confiscation under the penal laws against Roman Catholics, John Gascoigne settled his land in Lasingcroft, Shippen, Barrowby and other places for the benefit of his wife, daughters and younger sons. This did not include his hall and lands in Barnbow as a survey made in 1610 clearly shows. After his succession to the throne of England in 1603, James I settled on his wife, Queen Anne of Denmark, for her life, a number of local manors including those of Barwick and Scholes. In 1610, she ordered surveys of the manors and the resulting documents, with copies in Latin and English, are preserved at the Leeds District Archives at Sheepscar. The Queens Survey of Barwick Manor, as in earlier documents, contains a separate section on Barnbow which shows clearly how predominant were the Gascoigne lands. The survey shows that of the eight free tenancies in Barnbow at the time John Gascoigne held seven. He had nine messuages and 14 oxgangs (previously 'bovates') of arable land, paying to 'the Queen's most excellent majestie' œ1.13s.6d. The other free tenancy was 'one little cottage and three little garths' and was held by Richard Vevers of Scholes, who paid 8d. in rent. Of the four parcels of copyhold land listed in the survey, John Gascoigne held two, containing one and a third oxgangs and 5 acres and paying 13s.0d. Henrie Shippen held two messuages and two thirds of an oxgang and paid 6s.8d. Nicholas Shippen held a cottage, an orchard, a garden and two 'butts' and paid 1s.8d. With 13 dwellings listed and a little more than 16 oxgangs of cultivated land, Barnbow shows remarkably little change from the situation in 1341, more than two and a half centuries before. There may have been a small increase in population as Barnbow Hall would be a large household at that time with servants and other workers living in. However, this division of land using the medieval term 'oxgang' conceals a much more complicated situation. A survey of the Gascoigne lands in Barnbow carried out in 1613 by Solomon Swale lists 83 parcels of freehold and copyhold land with acreages. Four open fields are named but it seems clear that they had been or were being divided into small closes. This enclosure process allowed the introduction of new agricultural techniques. Of the old open fields, 'Bullepitt field' and 'Weste field' are barely mentioned, but there are lists of the closes, etc. in 'Marlepitt field' and 'Owlde field' (see map in 'The History of Barnbow' Part 1). There are 18 parcels in Marlepitt Field, including 84ac.3r.12p. of freehold land, 15ac.2r.2p. of copyhold land, a total of 100ac.1r.15p. Owlde field had 15 parcels of land, 94ac.0r.12p. freehold and 16ac.0r.28p. copyhold, a total of 110ac.1r.0p. The situation is even more complicated as several of the parcels contain both freehold and copyhold land. Totals including common land are included in the survey:
| | | | |
| --- | --- | --- | --- |
| | Freehold | Copyhold | Total |
| Barnbow(excluding items below) | 337ac.1r.34p | 44ac.0r.28p. | 381ac.2r.22p |
| Barnbow Carr | | | 41ac.2r.10p |
| Barnbow Green | | | 10ac.1r.10p. |
| Totals | | | 433ac.2r.2p. |
To attempt as Catholic recusants to avoid confiscation, John Gascoigne and his son Thomas in 1625 leased their lands at Barnbow to George Wentworth for 41 years.
Soon after his accession to the throne, Charles I was granted five yearly subsidies on land or goods . A full analysis of the 1627 subsidy list for Barwick is made in 'The Barwicker' No.22. The document also includes the names of Catholic recusants and, although they show that this non-conformity had been almost wiped out in the rest of the Skyrack wapentake, it remained strong in Barwick, especially in those areas influenced by the Gascoignes. John Gascoigne heads the list and is described as a recusant, paying double the normal rate of 4s. in the pound. Living in Barnbow are 16 other named recusants, a total which represents at least half the adult population at that time. The list is headed by the wife, son Thomas and daughter in law of John Gascoigne and two men are stated to be his servants. The list includes, Nicholas Shippen, one of the copyholders in the 1610 survey, and members of the Brame family, who figured in the earlier will. In addition there were eight recusants in Shippen and one in Lasingcroft, where the Gascoignes had estates. It is clear that in Barnbow and neighbouring areas, a small corner of West Yorkshire, the light of the Catholic faith gleamed bright and clear, in spite of the persecution and punitive taxation. Despite his non-conformity, John Gascoigne was created a Baronet of Nova Scotia in 1635. This was part of a device by King Charles I to raise funds for himself by granting this title to over 100 recipients in exchange for a considerable sum of money. Each was granted 16,000 acres in Nova Scotia, land which was of little value as it was constantly harried and subsequently occupied by the French. It was finally ceded to Britain but apparently the new baronets received no compensation. The Barwick parish records date continuously from 1653, but for the 11 years from 1631 to 1641, the transcripts made for the ecclesiastical authorities (the Bishop's transcripts) are extant and are reproduced in Lumb's 'Wills, Registers and Monumental Inscriptions of Barwick'. The years are recorded using the old calendar starting on 25 March of each year. During these 11 years, for the inhabitants of Barnbow there were 20 births, 15 deaths and 4 marriages, numbers in accordance with a population of about 55 noted previously. In addition the records include the burials of Sir John Gascoigne and his wife Anne, living at the time of their deaths in Parlington. Members of the Brame, Shippen and Daniell families are also listed. Of the four marriages, two are between couples from Barnbow, one is between a man from Potterton and a woman from Barnbow, and one between a man from Barnbow and a woman from Barwick. The records show how precarious life was in Barnbow at that time. Of the twenty children born in the years covered, six died during these years. In the year 1639/40, six people died, including two fathers of young children. Walter Leaper died in this year having christened three children during the period covered, including a son of about one year who died three months after his father. Richard Shippen died after a son had been born two years earlier. Two adults dying this year are the only people whose occupations are described and they are of the lower orders of society - Francis Hodgesonne, 'a female servant', and William Hodgesonne (her husband?) 'a poor collyer' - an industry, which was still operating in the area three centuries later. In February 1638/9, Henry Stephenson died a fortnight after his unbaptised child. Sam Crabtree and Marie Daniell were married in 1636 and had three children during subsequent years, one of whom died in 1641, aged two years. Other Barnbow surnames recorded during this period are: Pickering, Clapham, Dollie, Harrison, Compton, Carother and Benedict. Five of the six people dying in the year 1639/40 did so during the normally healthy months of June to September. In the years 1638/9 and 1639/40, the death figures in the whole of the Barwick township were about twice those of previous years. Was plague the cause? It is related that in 1645, Leeds was severely affected by plague, following minor outbreaks in previous years. For the first time we find a distinction drawn between Barnbow and Barnbow Carr, a word usually applied to low-lying often marshy places. Perhaps the former name refers to an early settlement near the Hall and the latter name represents the present settlement at the junction of Taylor Lane and Barnbow Lane. After the death of Sir John Gascoigne in 1637, his land, property and title passed to his eldest son Thomas, who became the 2nd Baronet. The continued devotion of the family to the Roman Catholic cause is shown in the lives of Sir Thomas's children. Of his daughters, Catherine became Prioress of the Benedictine Convent in Paris and Frances a nun at Cambrai, the second generation of Gascoigne daughters there. The parish records of Barwick are complete from 1653 and from then until 1657 only, the marriage records give details of the groom's occupation. The 29 marriages in this period have been analysed fully in 'The Barwicker' No.21. Only three involved Barnbow people. Stephen Tempest esquire, married Anne, daughter of Sir Thomas Gascoigne, and Robert Bolland (linen-webster or weaver) married Anne Wardrop. The banns for these weddings were read at the market cross in Wetherby rather than in Barwick church, indicating the Catholic beliefs of the families. An inventory of Barnbow Hall drawn up in 1661 on the death of Anne, Lady Gascoigne, gives us some idea of the large size of the building. It lists the following rooms:
'My ladies chamber',
the backchamber,
outer backchamber,
garden chamber,
old chamber,
gallery,
dining room,
wainscot room,
red chamber,
backchamber belonging to the red chamber,
chapel chamber,
'little bourdened room',
high chamber,
Mr John's chamber,
maid's chamber,
Mr Wright's chamber,
Postgate's chamber,
little parlour,
great parlour,
hall,
pantry,
out pantry,
ordinary beer buttery,
strong beer buttery,
kitchen,
larder,
'pestrie',
bake house,
old brew house,
wash house,
milk house,
back store
chamber,
new brew house,
chapel,
vestry
The lavish nature of the contents of the chapel and the vestry listed in Colman's book are evidence of the importance of Catholic worship to the Gascoignes at that time. In January 1677/8, the manors of Barwick and Scholes were acquired by Thomas Gascoigne, the eldest surviving son and heir of Sir Thomas, the 2nd Baronet. This followed a long series of complicated business arrangements starting several decades earlier. Queen Anne, the lord of the manor of Barwick, died in 1619 and her son Charles, shortly after assuming the throne in 1625, mortgaged the estates to the Corporation of the City of London. Then the manor changed hands several times and was eventually held in trust on behalf of the Gascoigne family until 1677/8 when Thomas Gascoigne became the lord of the manor. The title was to remain in the family for nearly three hundred years.