Back to the Main Historical Society page
Back to the Barwicker Contents page
The Vevers Family of Scholes and Potterton
From The Barwicker No.65
Mar. 2002


Looking through historical records for the parish of Barwick in Elmet brings up numerous mentions of the name Vevers. The main sources I've referred to are ' History of Barwick in Elmet' by Rev. Colman, published in 1908, the parish registers transcribed and published by Lumb, 'Records of the Parish of Whitkirk', by Platt and Morkill dated 1892, and more recently 'Scholes is our Village' by Shirley Talaga dated 1985.

Colman provides several pages of information on the Vevers families and considers the name to be a variation of Evers. This ties in well with a coat of arms on a memorial to William Vevers of Scholes who died in 1744, to be seen on the north wall of the parish church. The arms can be traced back to the Eure, Evers or Evre family, who came from Evre, nowadays known as Iver, in Buckinghamshire in the 14th century.

Just when the first Vevers came to live in Barwick isn't known. The spelling and pronunciation of surnames has tended to be rather flexible over the centuries, but in the mid 15th and early 16th centuries two vicars of Leeds were from the Evers family, and the nephew of the later one became a lord in 1544. It is recorded that he used Vevers as one of the alternative spellings of his surname. Although he would not have been the source of the Barwick Vevers (the title would have passed to them rather than going extinct), it probably came from a close member of that family.

Numerous Vevers are to be found locally and only in the Leeds area - Methley, Swillington, Kippax, Rothwell - from the 1540s onwards. The first record I've found for Barwick is John Vevers who is listed on the jury 1548-9, and a copyholder in the manor of Scholes. In the manor of Barwick in the same year was Joan Vyvers, a widow.

Compulsory parish records of baptisms, marriages and burials, the most plentiful genealogical source, however only commenced in 1538, so earlier details are sparse, and there is rather a significant gap in the register between 1600-1630.

The early Vevers families were yeoman farmers, tenants of the lord of the manor, and in the 1700s there appear to have been three main branches to the family. William, whose memorial and coat of arms is in the church, lived at Scholes Hall. William described himself as a gentleman, and had extensive land holdings in the area.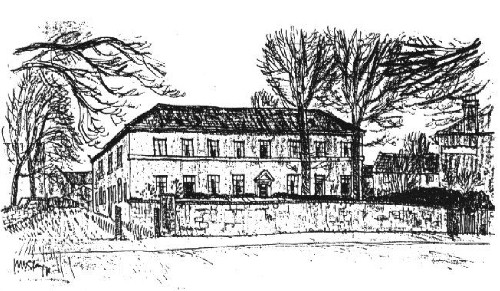 Stephen, a cousin, also a gentleman, owned Morwick Hall. Stephen was a keen horseman, and bred Morwick Belle which he raced at York, alongside such as the legendary Gimcrack.

Richard was a cousin who ran a tannery business at Potterton. At this time, the Leeds area was a major centre for production of leather. Although well off, Richard did not have the same status as his cousins at that time. There are some interesting letters from Rev. George Plaxton about Richard, who was clearly behaving in his view, as someone a cut above his station. In one he is complaining that Richard has refused to serve as a church warden, which was expected of lesser citizens when called upon.

In 1732 Richard sold his business to Robert Fretwell and died two years later. There was no will, but a grant of administration was given to his chief creditor, James Oates, his brother-in-law. His son Richard soon after moved to Hereford, where he seems to have made good, becoming a gentleman, and achieving some success at horse racing. Another son, William, became a clergyman in Wakefield. Robert Fretwell seems to have rebuilt much of Potterton Hall. He had extensive business interests in the leather trade and also ran haulage carts and barges travelling between Tadcaster and Hull, but eventually got into financial difficulties and sold out, and left for India (see 'The Barwicker' No.37).

When William of Scholes Hall died, his son Richard was only 14 years old. An allowance of œ60 per year went to William's wife Priscilla, but the main estate went in trust to Richard with the proviso that it would pass to Priscilla's nephew if Richard died without an heir of his body. Priscilla remarried to John Atkinson but it was not to be a happy union.

Richard never married and died in 1767, at 36 years old, not an unusual life span for those days. With no family heir, he left most of his estate to 10 year old Richard Wilkinson of Rothwell, who took the surname Vevers as directed by the will. As yet I haven't found out why young Richard was so favoured, or why the estate didn't automatically end up in the hands of Richard's mother's family, the Brookes. There were several Vevers living in Rothwell at the time, but I haven't found a family connection with the Scholes Vevers.

Young Richard doesn't appear to have lived in the Barwick area, but took up residence at his benefactor's house in Bishopthorpe, York, and the Scholes estate was subsequently sold to the Gray family. The new Mr Vevers entered Cambridge University, qualifying as a clergyman, and subsequently spent most of his days as rector or curate of a number of parishes (sometimes simultaneously) in Lincolnshire and Northamptonshire. He seems to have reached a well respected position in society and his daughter married Lord Chief Justice Denman.

Scholes Hall is believed to have been originally built on the site of the old Scholes Manor House. The Hall no longer exists, but was where the old people's bungalows now stand, in front of the modern Manor House community centre. The original buttressed wall in the picture has recently been demolished and replaced by a wooden fence.

The will of Richard is a lengthy document. One point it labours is that Richard's mother is to continue to get her allowance, but as she is separated from her second husband, the will is drafted to prevent him getting his hands on any of the money. Divorce was out of the question for most people in those days, and women usually to had to forego any personal property rights once married. Some of Richard's land goes to his cousin John, son of Stephen of Morwick, and there is also a bequest of £50 to pay for a handsome dial or face plate for the church clock, any surplus to go to the poor of the parish.

There is a pedigree of the Vevers family of Scholes in 'Records of the Parish of Whitkirk'. The Vevers family of this time was not obviously connected with Whitkirk, but I've found a number of similar books of the period which were financed by local subscribers, in exchange for a mention in the publication. One subscriber was Henry Vevers from Hereford, a descendant of Richard of Potterton, and the information on Henry's descent is quite detailed, whereas that of the Scholes and Morwick families is less so, and in places conflicts with information from other sources.

Steven Vevers lived in Morwick Hall, but this also was sold to Edward Gray. His widow and sons John and Stephen moved into Scholes Park Farm, which survives, though the Morwick Hall seen today was rebuilt by the Gray family. Much of Potterton Hall was also rebuilt to designs by Robert Carr in about 1740. Robert Carr was also the designer of Harewood House.

Another William Vevers also lived at Kiddal Hall, which was the property of William Rooke of Dronfield and Dodworth. William Vevers married Ann Rooke, though I don't yet know whether he inherited the property. I have found a number of members which I cannot connect to any branch as yet, especially since there was a fair bit of movement around local villages like Aberford, Bardsey and Thorner, but by the mid 19th century any remaining in the parish appear to have died or moved away.

The final survivor in the Parish seems to have been John Vevers, a carpenter who died in 1841. He had spent his working life in Quarry Hill, Leeds. By this time other branches were well established in Leeds and York, and a much more numerous Vevers branch was residing in the border towns of Lancashire.



Back to the Main Historical Society page
Back to the Barwicker Contents page